This post is also available in:

Español (Spanish)
The Municipal DIF System, will be delivering 5,000 of them to the same number of children in the 30 sectors of the municipality to children who often do not receive a toy for Christmas and "Día de Reyes".
Children who will be benefited are selected through a study by the Directorate of Social Development and Social Work of the DIF, the toys may be donated by citizens or companies.
Candelaria Tovar de Dávalos, president of the DIF System in Vallarta informed in a press conference "We visited the houses of children, girls who do not receive a gift at Christmas and these toys are addressed to our little ones who at Christmas received nothing, so they are for our vulnerable children."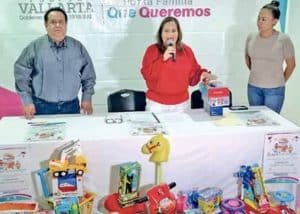 Tovar de Dávalos also informed that children do not know that they will benefit from this gift, members of DIF System will come to the homes by surprise. She explained that if a low-income family has four children, the four of them will receive gifts, what makes the experience more pleasant. This is why they expect to benefit 5,000 girls and boys.
On the other hand, Brenda González Cárdenas, director of the welfare agency, commented that a list of the houses that will be visited, the DIF staff, people who can be a donor can join this activities so they can be certain that toys are delivered with transparency.
It is worth mentioning that people and private companies can also bring to the DIF System some toys in good condition or with donations. The delivery will be on January 4 and it will only be one day for these 5,000 children to enjoy their toys. A comparison from last year shows that the same amount of toys was delivered and made these children happy.
Donate! DIF System is located at Av. Las Palmas No. 105 Col. Barrio Santa María Tel. 322-225-9936