This post is also available in: Español
It was founded in the year 1605. Today there are about 700 residents and this tiny town, which until recently was accessible only via air, is home to a growing number of amenities designed to attract tourists and yet still retains its unique breathtaking charm with views of mountain and valley.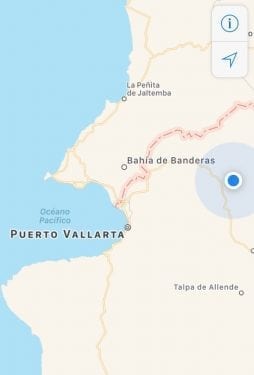 The ride to San Sebastian del Oeste from Puerto Vallarta takes about an hour. You're mostly on a two lane highway, its own views breathtaking. The road is windy and never outright steep, as you climb to nearly 5000 feet above sea level. My guide was a weekend resident and very comfortable negotiating the turns and passing the slow moving vehicles in our path. At one point the road detoured onto a smaller sand-covered road, and somehow became even windier. I'll admit I held my breath a few times as we rushed aside cliffs, ledges of rock, around the turns and passed evidence from where cascades of run-off water from the rainy season had threatened the safety of the very road we traveled.
Everywhere you look, the town is a never-ending snapshot from a postcard, but in two radically different ways.
Our first stop was a combination of the two. The Hotel Paraiso de San Sebastian restaurant and bar encapsulated the old and the new, it's embrace of tradition and evolution. The menu, for example, is double-sided: one side lists items in Spanish and the other in English. Our waiter took our drink order and gave my group a moment to look over the menu. At the precise time, he arrived holding a tray of fresh seafood with an offer for us to choose our own item, specifically, from the menu. We opened with samosas, chips and guacamole. My only regret for my entrée is that I stayed comfortable with a Mexican dish (I ordered fajitas with chicken) instead of diving into the seafood options. It was my first week in Mexico; I had no choice, right?!
After dinner we stopped and purchased baked goods from a old woman who had the product lined up on service trays, the sort you'd see in a conference hall, or… I suppose any bakery. It stood out because the ovens were traditional. There was no signage, no cash register, no other evidence that a business existed there. In fact, I figured we were stopping to visit a neighbor of my host, that we were making a social call.
Overnight we stayed at the all new Hacienda Matel, an eight bedroom hotel entirely enclosed by a stone wall, with long tall wooden doors opened like shutters, like arms outstretched as a welcome. In a courtyard rested a covered, round jacuzzi, the centerpiece from which every room opened from the large square path of its perimeter. Amenities of a high class abounded in each of the rooms. Either with one king bed or two queens, the layout as well as the bedspreads and floor rugs were nearly identical for each. No bathtubs, these rooms all included walk-in showers with overhead shower heads.
The public guest parlor housed a massive dinner table, piano and sitting room, with various knick-knacks and wall-hangings and bureaus guaranteed to steal your eye and imagination. Up the hill was a full bar with pool table and small break away rooms, each just large enough to house a full table with seating for up to 10 people. And a church! A sanctuary on the grounds. It was small, yes, and I feel like I shouldn't have even told you about it because the simple surprise of turning a corner and entering a doorway into a church is something to behold, a feeling I'll never experience again when I return.
We all slept in, the next morning, so for lunch we stopped across the road at Villa Nogal, a "restaurant, bar, and vista" and if I've used the word 'breathtaking' before now I've abused it. The view from this open-air patio is gasp-inducing. Your eye travel down a valley that meanders directly away into the distance and from both sides of your periphery you see lush green mountains rise, the kind you feel like you can reach out and touch. If you're a city person, you'll feel like you're living the first thirty minutes of Jurassic Park.
The food was a sometimes complicated mix of traditional and American, most of it a bit heavier than most lunchtime menus. We began with a cheese fondue, its smooth salty texture enveloping the crusted edges of the day old bread pieces. I ordered something called Grandmas Chicken Casserole, mostly because it seemed to be the lightest item on the menu. I was wrong. Chicken thighs in a broth with mushrooms and onion, all simmering in the cast iron bowl as it arrived at the table, it was so tasty and delicious. A simple side of rice or maybe a potato would've complemented the dish perfectly; the iceberg lettuce salad and French fries that arrived with it, not so much. The presentation, though, was outstanding. And the service! The service was absolutely first rate.
It was the perfect place to end a daylong getaway, if only because you're overlooking the very road that will take you back out of town. You'll look back, as I did, from that same road as you're leaving and marvel how, just a few feet up what appeared to be nothing more than a small hill, impressive and overwhelming the surprises that awaited just 24 hours earlier in this 400 year old town.