This post is also available in:

Español (Spanish)
TV star Ross Matthews (a regular judge on RuPaul's Drag Race) will be a part of a bigger and more visible Puerto Vallarta pride...
Moving to Puerto Vallarta... how it all came about was very unexpected and fast. It was one of those moments in life where things...
New year's resolutions... A lot of people say that they hate making them, and I get it, but it is also important to know...
Out & About PV got an exclusive interview with former Rupaul's Drag Race contestant Tammie Brown! She discusses her upcoming Puerto Vallarta residency, her...
Fabian Reyes opened Warique (pronounced Wah-Ree Kay) last September and it quickly became a popular destination through positive word of mouth. After years of...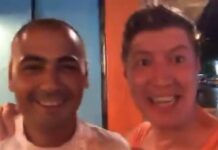 Derek Carkner spoke with Chanan Kamen at the opening of his new establishment, Don Chava Taqueria Cantina. It is located at Lazaro Cardenas 288,...
By Alberto Sosa EUREKA A. P. O&APV Contributor La Zona Romántica is one of the most iconic spots in Puerto Vallarta; thousands of visitors every year is...
We interview Paco Arjona, executive director of SETAC, about their services and nine years of service to the community.

The Puerto Vallarta Gay Men's Chorus hosted its annual fundraiser on the evening of Friday, March 23 at Casa Karma in Conchas Chinas. The nighttime...
Welcome to Puerto Vallarta! A quick overview of the beauty of Puerto Vallarta, provided by the Puerto Vallarta Tourism Board.
Casa Cupula to begin 15th anniversary with "Desperate Princesses" Watch the videos! Mexico's premiere LGBT boutique hotel is about to embark on its 15 season, and...
Facebook Live video interview with new O&APV Editor Alex Chavez. https://www.facebook.com/outandaboutpv/videos/288911585092104/

Join us this evening for the 'Out & About Puerto Vallarta' magazine launch party! O&APV Editor & General Manager Joseph Brant offers this preview of...