Esta publicación también está disponible en:

Español
If you're looking for a taste of traditional Italy in Puerto Vallarta, look no further than Trattoria Di Nuovo.  This wonderful trattoria has been part of the Puerto Vallarta restaurant scene for 11 years and recently moved to a new location at Francisco I Madero 441, Zona Romántica, Emiliano Zapata, 48380 Puerto Vallarta, Jal., Mexico.
I love the new location!  The interior and garden dining areas are warm and welcoming.  The open kitchen is bright, modern and provides a great view of the action in the kitchen.  Owner Nohemi Heredia, having spent time in Tuscany, knows exactly how a trattoria should feel to its customers, casual with the expectation of delicious Italian cuisine.  The new location is in an old Mexican home that provides an added sense of warmth and comfort.
Nohemi successfully transports you to Italy with the restaurant's style and decor.  Beautiful photos of Italy, including one of Sophia Loren, red checkered tablecloths and soft, ambient lighting set the tone for a relaxed dining atmosphere.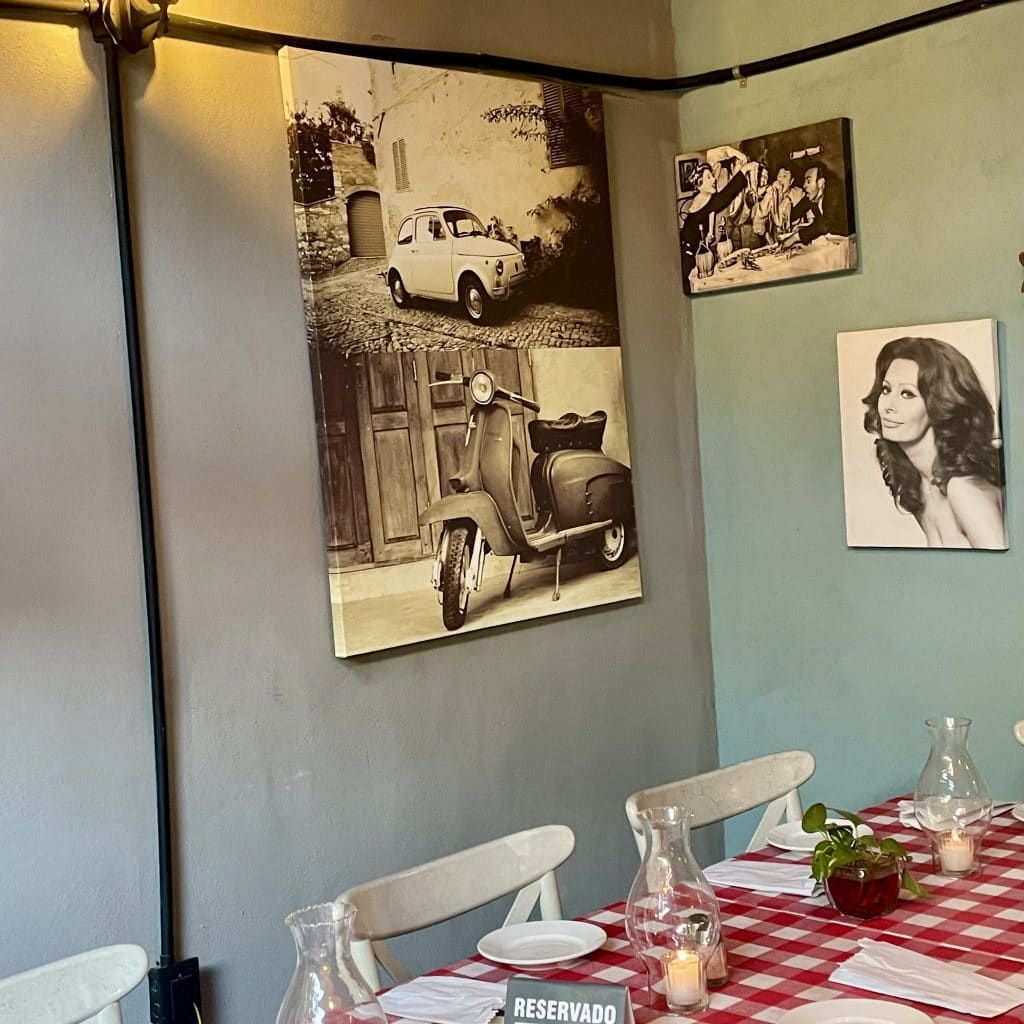 But with any trattoria, the real focus is the food.  Having eaten at Trattoria Di Nuovo many times over the last few years and bringing friends visiting from Chicago, we all agree, the food rivals the best trattorias in Chicago.
Chef Luis Villaseñor has an inspired menu of Italian favorites executed extremely well.  I've been fortunate to taste much of the menu over my many visits.   Treat yourself to the Portobello Balamisco, a great combination of portobello mushroom, goat cheese, and walnuts with a balsamic reduction from Modena, Italy.   It doesn't get much more Italian than this dish.   However,  it's always hard for me to resist the Spicy Calamari Fritti and Insalata Caprese, two of my goto favorites.
With his talented kitchen staff, Chef Luis offers daily specials including fresh pasta. Being near the ocean, the specials usually take full advantage of all the fresh seafood found here in Puerto Vallarta. It's a tough decision deciding between a daily special and my craving for traditional favorites like Lasagna or Spaghetti Bolognese. I especially love the Spaghetti and Meatballs which truly reminds me of my own Italian mother's cooking.
On my most recent visit, I ordered the fresh fettuccine pasta, substituting it for the pappardelle pasta, making for a delicious Alla Boscaiola that includes my favorites of Italian sausage, porcini mushrooms and olives in a white wine sauce.  Deliciosos!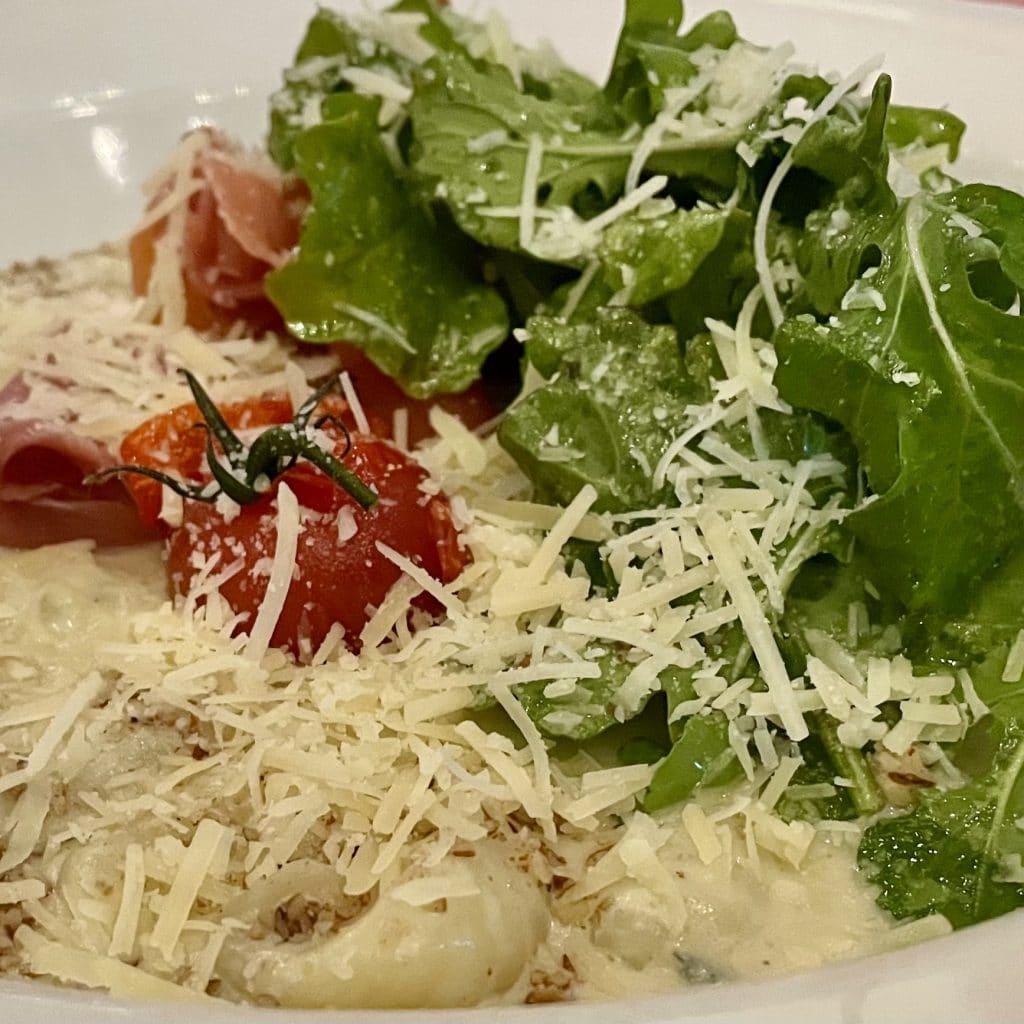 And what better way to end a meal at a trattoria but with a delicious piece of Tiramisu.  Like the rest of the menu, Trattoria Di Nuovo's desserts give you an amazing taste of Italy.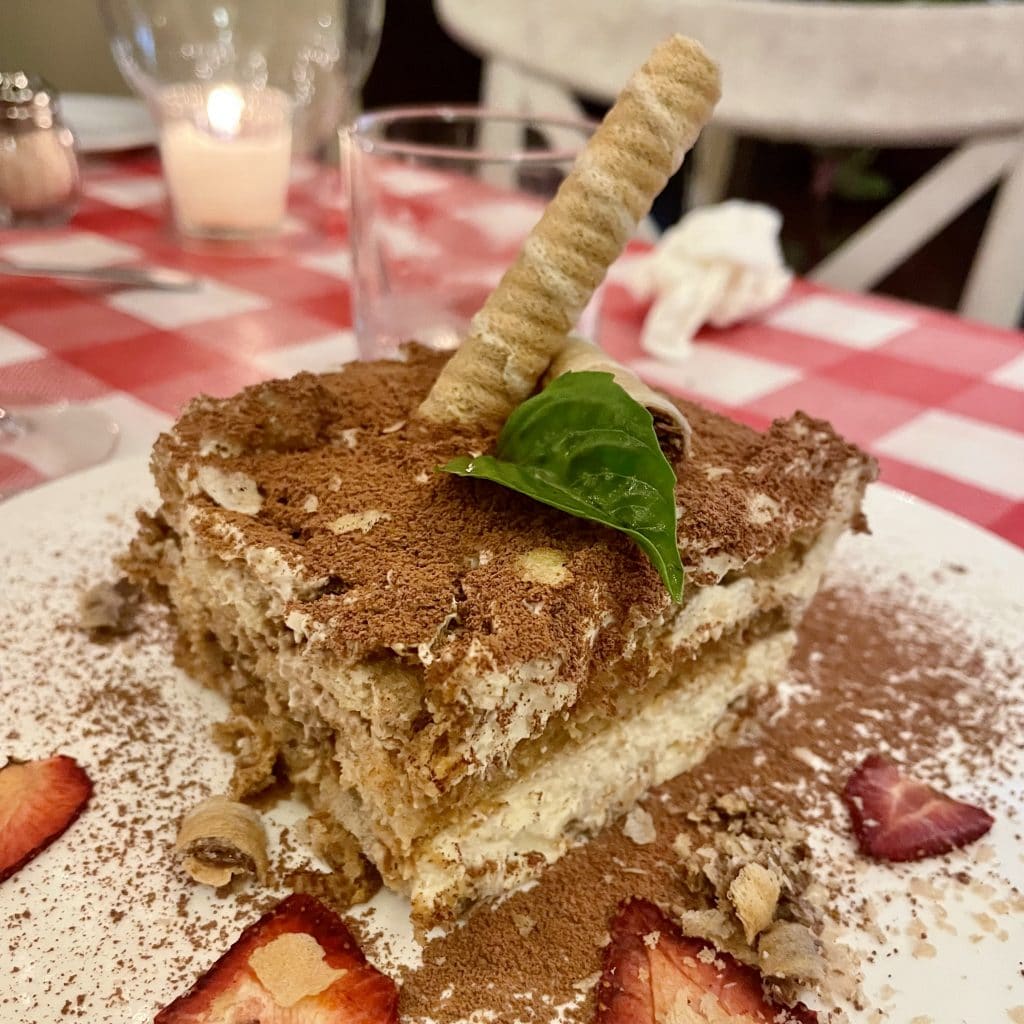 Nohemi, Chef Luis and their excellent servers give the restaurant the family feel you would expect in an Italian trattoria with a great combination of food, service and atmosphere. It's one of those restaurants you will want to visit over and over again. And that's actually what my friend Chris from Chicago did on her last visit to Puerto Vallarta. Mexican and Italian are Chris' two favorite foods and while she sampled Mexican food at a lot of different restaurants, she went to Trattoria Di Nuovo twice during her week stay because it reminded her so much of home.