Esta publicación también está disponible en:

Español
Puerto Vallarta Prepares for High Winds, Storm Surge and Flooding
The Municipal Government of Puerto Vallarta reported that at 21:50 hours it issued a message through the alarm horns, that Hurricane Orlene is in its elimination phase. However, they warn that the risk if rain snd flooding remains possible and to lower the guard.

Puerto Vallarta Airport Closing
From the Puerto Vallarta International Airport:
We inform you that by provision of NOTAM and for your safety, our airport will remain closed from 9:00 p.m. until 8:00 a.m. tomorrow. We suggest you keep in touch with your airlines to find out the status of your flight.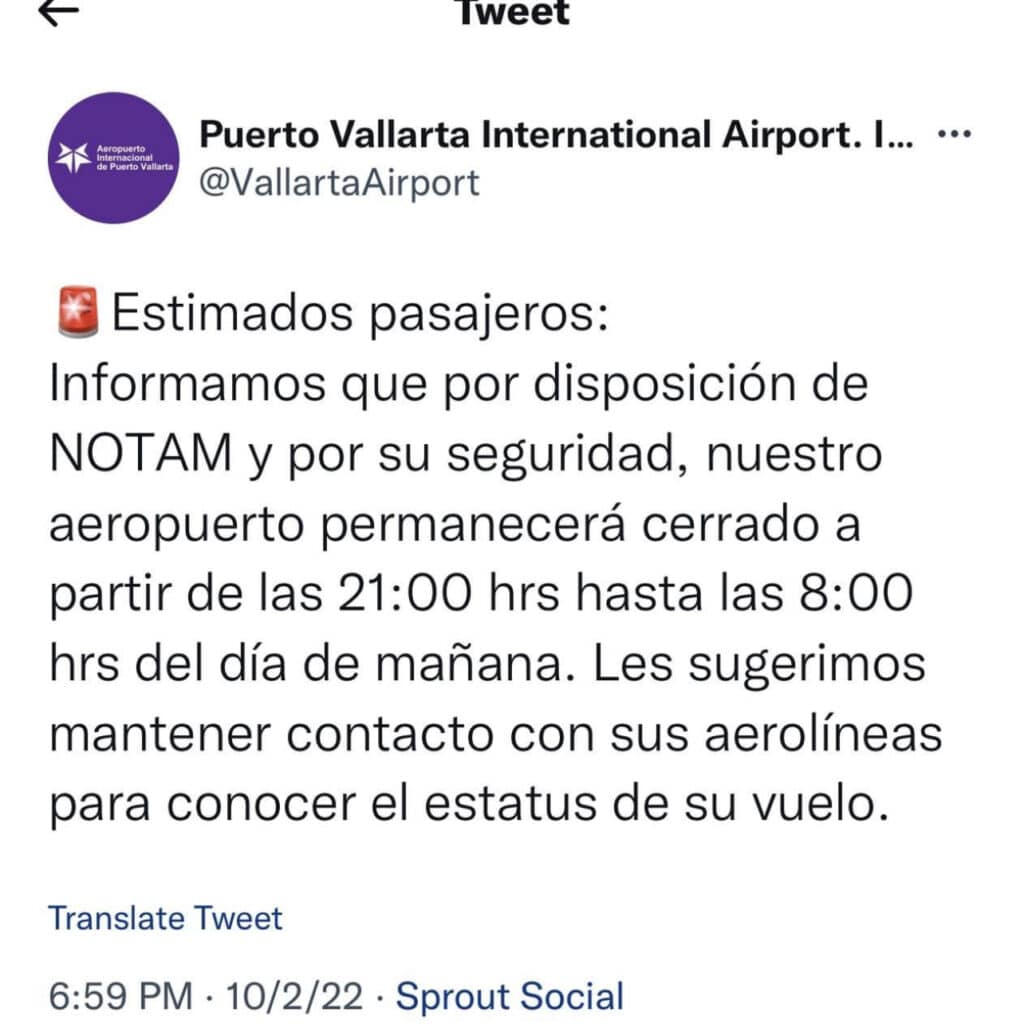 7 pm
Puerto Vallartians remain on alert as Hurricane Orlene passes by. The beaches are closed with officials patrolling to keep people safe, and the red flags are up. The Hurricane is approximately 184 km off the coast. Officials expect heavy rains will cause flooding tonight.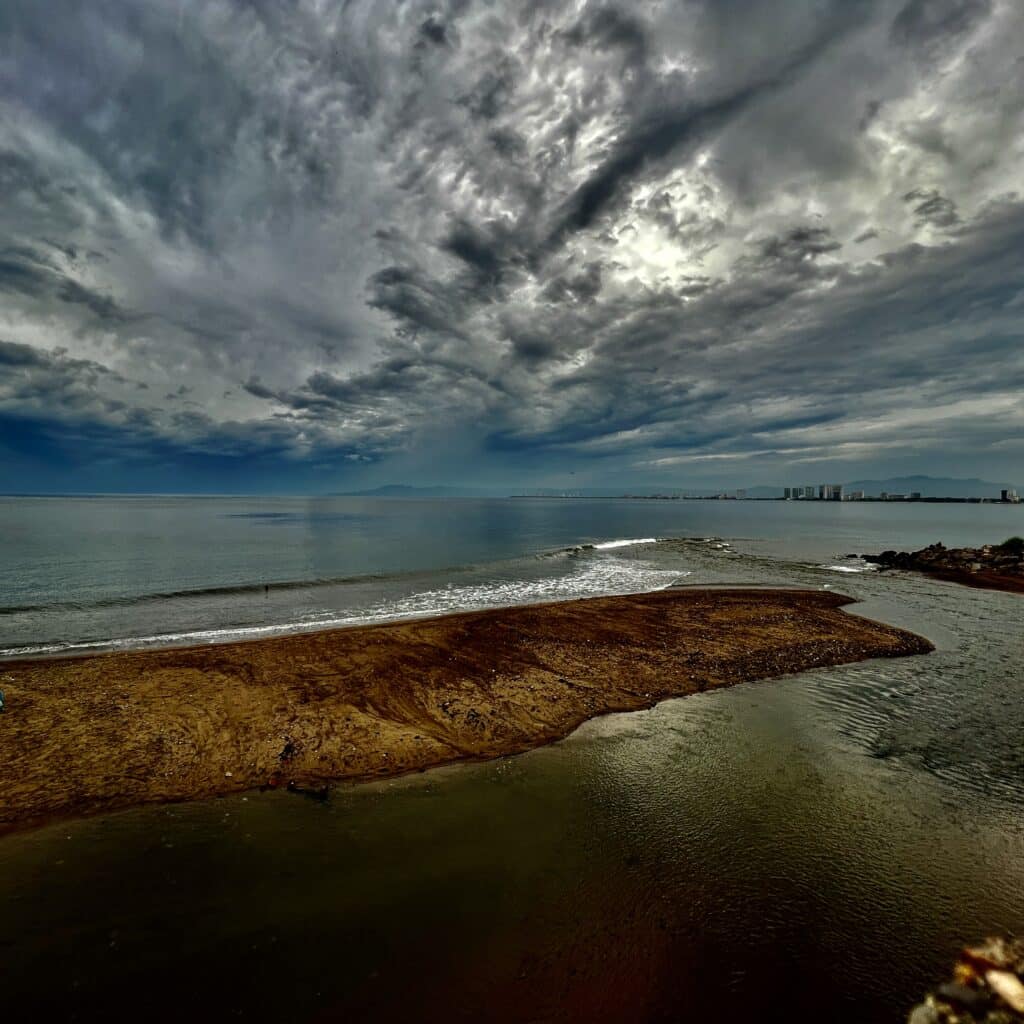 3 pm
The following businesses or events have notified OAPV they will be closed or not open at all on Sunday afternoon/evening (10/2/22) due to the threat of a hurricane. We will update the post as information becomes available. Please check with the business or event before you go.
Costco (closes at 6 p.m. Sunday)
Therapy Bar and Studs (Closed Sunday)
Boys on Fire Show at The Palm (tickets will be honored at the show next week and opening night moving)
Beers, Boys and Burgers at Hotel Mercurio (canceled)
La Chacalaca Bar (closed Sunday)
Incanto (closed and on vacation till Oct. 4)
Angola de Napoli will be closed today and tomorrow.
La Catrina Cantina
Burros Bar closing at 9 pm
The Swedes Closed

10/2/22: 9:08 A.M.
Puerto Vallarta is under a hurricane watch and tropical storm warning as Hurricane Orlene gained strength with sustained winds of 215 km/h. The hurricane is expected to gain more strength on Sunday, and then began to weaken as it approaches the mainland.
Puerto Vallarta officials say they expect to see "Heavy rain, gusts of wind and high tide are expected in this region, as well as the possible increased rivers, streams and canals."
Moving at just 7 mph, the hurricane is expected to turn toward the north-northeast today, said the National Hurricane Center. The center is expected to pass over Las Islas Marias on Sunday night or Monday morning, and reach the coast of mainland Mexico later Monday/Monday night.
A Hurricane Warning is in effect for a portion of west-central mainland Mexico, where hurricane conditions are expected on Monday with tropical storm conditions beginning early Monday. Preparations to protect life and property should be rushed to completion.
As of Sunday morning the Puerto Vallarta International Airport remained opened, tweeting at 7:17 p.m. on 10/1/22 "Dear passengers, our airport has favorable weather conditions and is operating normally. We recommend keeping up with the status of your flight through official channels of your airline."
The government of the state of Jalisco (which is the state Puerto Vallarta is in) has set up temporary shelters for anyone needing to seek refuge that live in areas of Jalisco that are expected to be more impacted and have a direct hit, versus Puerto Vallarta.
Costco in Puerto Vallarta has announced it will be closing at 6 p.m. on Sunday, Oct. 2. on its social media page. Other businesses contacted by OAPV said they were "keeping an eye on the situation and for customers to check their social media pages."
The Civil Protection and Fire Department of Puerto Vallarta put out a statement on social media that it "recommends to the population be aware of the presence of Hurricane "Orlene" and its effects as it passes through the Mexican Pacific.
• Find out in the official media.
• When driving, speed should be moderated on highways and country lanes.
• Avoid crossing fords, rivers and bodies of water that are swollen.
• Have alternate routes identified, in case it is necessary to travel during the presence of the phenomenon.
• It's important to take precautions against possible landslides, rockfalls, or landslides in mountain areas.
• Take precautions to protect assets from strong winds, specially if you are near constructions made of material that could detach or fall, as well as possible damage to electrical wiring.
"Do not leave the house if it's not necessary. If you require help, contact the emergency number 911"