Esta publicación también está disponible en:

Español
Puerto Vallarta is a melting pot of cultures, styles, moods and grooves and it's thanks to the eclectic variety of people that flock here; whether it be for a week vacation, a couple of months to escape from their routines or a permanent move in search of a new life.  These adventurers may often come only expecting to check out the scene and quickly find themselves a part of it.  Such is the case of Alison Lo, she was drawn to PV due to its magnetism and her curiosity and is now a headlining artist in town.
Alison was recently living in her native L.A., she grew up between the city of angels and Seattle,  and with the current state of the world she wasn't sure what her next move was when some friends told her they were moving to Puerto Vallarta.  She decided to join in for a fun vacation, a vacation that turned into something she wasn't expecting.  
Lo recalls growing up in a musical family, most of her father's side of the family were professional musicians.  Her uncle is a jazz pianist, her brother a pop singer and her sister a singer.  "Everyone plays an instrument or sings in that family, my grandmother was a professional opera singer and they are all involved in the Hong Kong music industry.  Hong Kong is where my roots are, my parents are both from Hong Kong and met there before moving to the U.S." 
As far as her own musical path, Lo shares that she's had no professional training.  She says her family reunions were basically one big jam session and she participated in her high school choir, but other than that she just has her musical genes and raw talent to thank for her amazing pipes.Her musical influence has been marked by artists like Mariah Carey and Whitney Houston.  "Growing up it was Mariah Carey, I'm a big follower of hers" Lo shares, "I used to sing her a lot when i first started but eventually as I grew as an artist I learned to expand the songs and the genres i did, i was doing so many divas like Whitney and Mariah that it was really straining my voice.  It taught me to have a variety for my shows, I definitely love songs from the past, oldies. This is why I wanted to work with Bing (Her pianist) originally because I knew he had a good taste in his musical soul and we had our hearts in a lot of the same songs."  
Bing Young, her pianist and a fundamental part of her show, met Lo at Incanto, she recalls hearing him play and thinking "this guy knows good music, this guy's got a soul and I could just tell that his soul would connect with mine".  She walked up to him and expressed her desire to work with him and two months later this dynamic duo is now part of an impressive and fun line up.
When it came to getting her foot into the performing world in PV Alison says it all started off easy enough with a night out having fun.  She came into Incanto with a friend one night and an artist invited her up on stage to sing.  She says that happens a lot at Incanto, whether they know you or not.  After she got up and sang, the owner, Tracy, pulled her aside and told her she had to do a show there.  At first she thought it was a joke but decided to ask what the line up was for christmas, they planned the performance and the rest is history, she's been performing there every week.
As far as recording her own music, Alison shared with us that she has written a lot of songs but has never shared them, she's yet to record them and says she has some on piano that exist only in her head, she plans to share her music someday but for now they live only inside of her.  "With the way things are going with performing it's possible that maybe I'll record something and finally make it exist outside of me."  She says she has nothing as far as streaming is concerned that her followers could listen to but she had done voice work in L.A. most recently for Marvel as well as the jingle for Asia's Next Top Model.
Lo recalls auditioning for American Idol as a teenager but says she's really not as interested in the limelight.  "The exposure you get from these shows is great but it's not as important for me as just being me and sharing music." She goes on to tell us about her L.A. beginnings, "I also sang at the Viper Room in LA, once a week and that was the first time I ever performed on a stage like that so I've only actually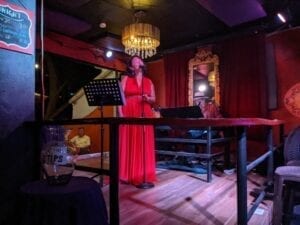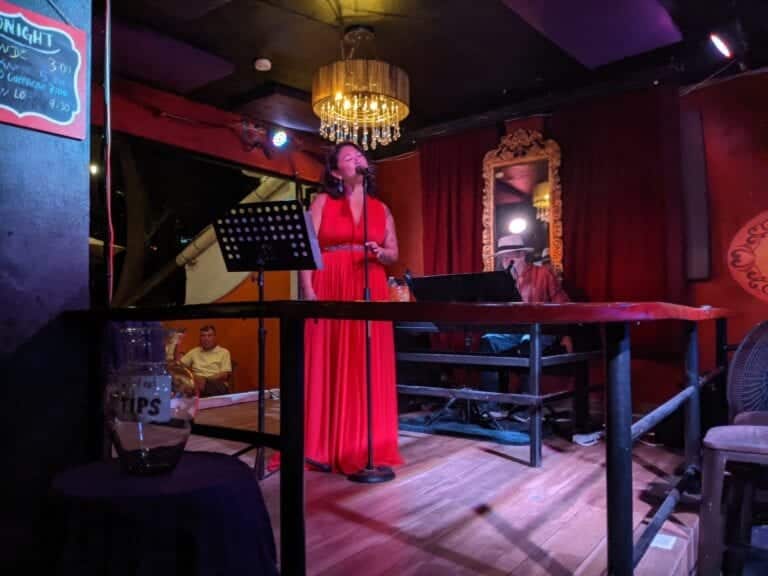 been performing on stage for about two years." The Viper Room, an iconic LA venue, was a great opportunity, she says a friend referred her to the organizer of viper room's event and he trusted her friend so much he booked her without ever listening to her sing beforehand.  Once she performed for the first time she was immediately added to the line up.
When asked about her involvement on the LGBTQ+ community and performing for a mostly gay audience in Puerto Vallarta, Lo commented, "I don't identify with anything specifically but I consider myself a a queer person and an ally".  She is a fluid performer and human being.  Growing up with plenty of gay men and queer individuals and a trans auntie, she describes her family as being musical and queer.
You're performing mostly for a gay audience here in PV, have you done this before or what has been your path to get here? To be honest I was also hopping karaoke bars in West Hollywood in LA which is a gay mecca and I guess thats where I started singing for a gay audience." [Laughs].
With Pride coming up, Lo who's never been in town for the event says she'd love to plan something special for the week.  She wants our readers to know that everyone is invited and that this show belongs to everyone, and the audience is definitely much a part of the nights she performs.  "One thing I would like to say is since I was young I always want to make sure that everyone was seen and that they are recognized and they know that they exist to me, all the kids in school who might feel like outcasts, this isn't my show, its our show and we're just hanging out."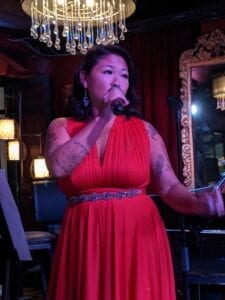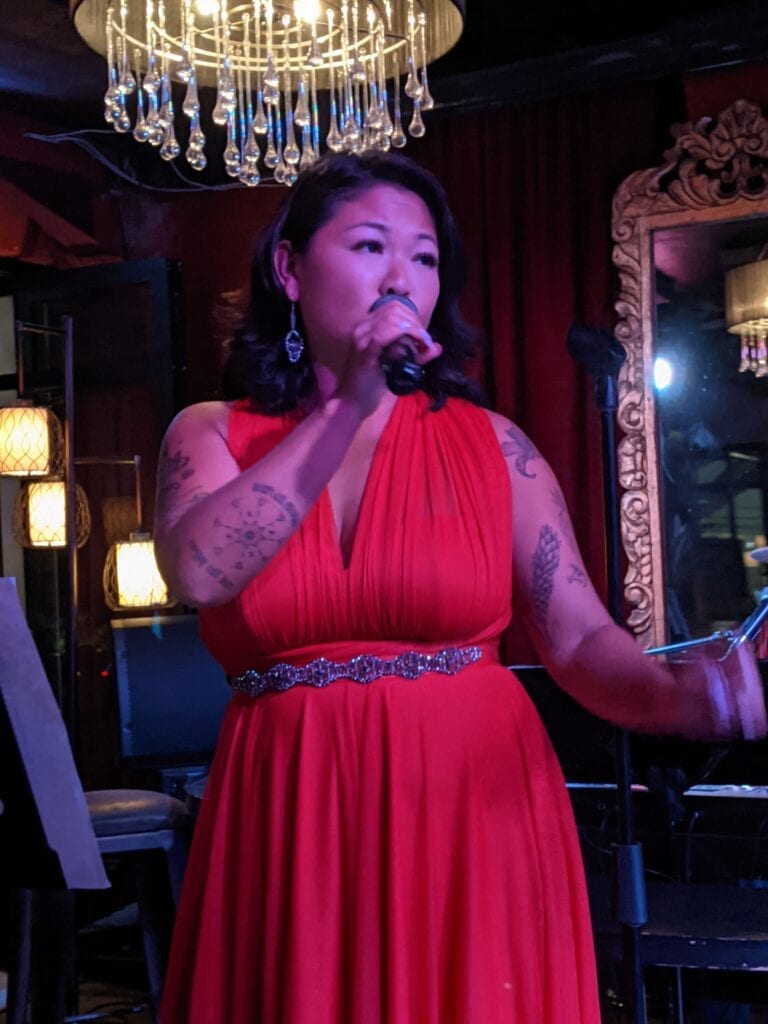 Indeed very outreaching and engaging, she makes you feel like you're with friends, like a house party.  "Incanto feels like home to me, most places with music feel like home" insists Lo.  With a vibrant musician scene in PV she mentions she's met a lot of amazing singers and performers who might not even be aware that they are performers, like happened to her when she first arrived in PV  .Alison who says she's bad at self promotion, usually just hangs out at the beach, sparks up a conversation and organically shares her love for music which she is so deeply passionate about that anyone who hears about it is bound to walk into Incanto to listen to her sing. Her favorite song to perform is Disney's Little Mermaid's Part Of Your World and it definitely got the crowd excited.  
Regarding how much longer she'll be taking up residence in Puerto Vallarta, Lo answered, "I see myself here for a very long time, not necessarily full time, all the time, but definitely when I leave I plan on coming back constantly." A nomadic spirit at heart, yet she expects to be in town until April 2022.
Allison Lo and Bing Young play their favorite songs and that transmits to the audience, a fun and laid back atmosphere not to be missed at Incanto Mondays, Wednesdays and Fridays at 9:30pm.
You can keep up with Alison on her Instagram account, @iamalisonlo. 
Special thanks to Sasha Gerner for contributing to this piece.
See Also…