This post is also available in:

Español (Spanish)
Fabian Reyes opened Warique (pronounced Wah-Ree Kay) last September and it quickly became a popular destination through positive word of mouth. After years of managing restaurants in his native Peru, Reyes settled in Puerto Vallarta a few years ago after falling in love "with the ocean, the local culture, community and vibrancy of the city." The promise of Latin, Mexican, Central & South American cuisine and all the tropical fruit and herbs and spices proves too much to resist. The warmth and hospitality of those cultures shine through the staff, no matter who takes your order, drops off drinks, or clears your table. It's a shame that some of that inspiration doesn't make it onto the plates.
Freshly shaken to order and delivering a welcome smooth, frothy and citrus taste, the house-specialty Pisco Sours ($90) are the perfect way to start of your meal. Latin American wines are reasonably priced between 300-600 pesos, but their option for sparkling wine is surprisingly French. With such notable bubblies emerging from Chile and Brazil in recent years, they might want to find one that complements their menu a little better.
A thorough look at the menu reveals an almost too aggressive attempt to attach a dish to a Latin American country- and with so many cuisines borrowing from each other, this attempt seems like a reach. The Warique Salad ($72) is "from Belize with lots of love" and is described as "sublime, truly heavenly… (and) delicious"! While I have had several potato salads from Belize, qualifying this over-dressed green salad as such seems random at best. Perhaps that's what is most noticeable upon my third visit: almost every dish is linked to a specific area, yet they could be interchangeable by their uninspired ingredients.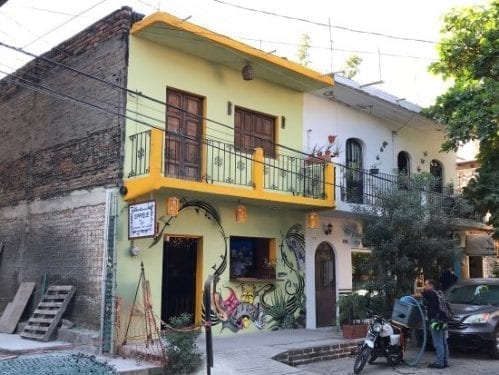 Invitingly served in a martini glass, their creamy Chilled Avocado and Cucumber Soup ($66) is garnished with some diced cucumber that adds a nice crunch. The trumpeted flavors of cilantro, lime juice and jalapeño could be heightened as the dish comes across as refreshing, yet bland while the amount of yoghurt gives it almost too much tang. Cuban Potato Balls ($66) are a home run and seem to be something that everyone in town can agree on. A great hot appetizer with the perfect balance of potato to meat and served with a jalapeño-infused sauce, you might want not want to split plated serving of three with your companion(s).
The Cubanella Pepper ($128) is known for having more flavor and a lower water content than bell peppers with a thinner sweeter flesh.  Native to Cuba, the Dominican Republic and other Latin American countries, nothing denotes it as particularly Honduran in this incarnation. It's tasty, though so it might be splitting hairs questioning its pedigree. With such a wide area of inspiration to draw on, the dishes that are cobbled together are slightly disappointing. With Honduras offering such coconut-heavy cuisine, why settle for a simple stuffed pepper? With beans of all varieties being such a staple of Latin American cuisine, why are they conspicuously absent from Warique's offerings? Even the "flavorful steamed rice" is absent from my Steak Arrachera ($163) and replaced with sautéed vegetables.
As for the meat, skirt steak is tough to get right, so the fact that arrived more than the requested medium-rare was made up for by its tenderness due to the marinade. Roasted Potatoes with Meat ($146) seems like a large side dish, rather than an entree. While the mix of potatoes, onions, beets and Argentinian sausage is tasty, I would have to agree with a table nearby who commented that it was something that they could make at home. It might be better paired with the afore-mentioned Arrachera instead of the small side of over-dressed Warique Salad that crowded the plate. Warique is quite successful with its rendition of the Peruvian Causa ($68) in both presentation and taste.
Desserts are housemate by partner Krys and are worth trying. The torte ($68) is moist and delicious, with rum and coconut blending well with the buttercream and spongecake. Flan ($54) is creamy decadence at its best. The Chilean Chocolate Cake ($65) has quickly become a house favorite. Fruit coulis is drizzled to cut the richness of the Oaxacan chocolate, while flavors of espresso and cinnamon give way to a kick of cayenne that lingers on the palate.
Warique should not be penalized for its enthusiasm. Though the menu is overwrought with adjectives instead of letting the fare speak for itself, it is evident that they are excited to be able to share these dishes with us. This passion extends to the service: friendly, yet professional, with their server Marcos ably handling the room. When the wrong drinks are dropped off, they are quickly replaced with an apology. Genuine thanks are extended on the way out by the staff.
Live music on Fridays and Sundays adds a talented guitarist to the quaintness of the twenty-two seat back patio. Striving for more authenticity and focus is all that I might suggest. There is also the hope that with new menu items on the horizon (and a recently launched "Happy Hour" with 2-for-1 Barsol Pisco cocktails), the missteps may prove to simply have been growing pains.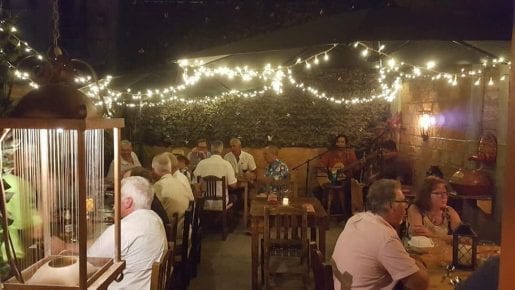 Address: Aquiles Serdán 280, Colonia Emiliano Zapata, Puerto Vallarta, Jalisco 48380, +52 322-223-0889, warique.x10.mx
Chef: Edward Aria
Hours: May – September: Sunday thru Friday 5pm-11pm, Closed Saturdays
October – April: Sunday thru Friday 11am-11pm, Closed Saturdays
Reservations: Accepted/Not Required
Wheelchair access: Yes (ramp in front)
Payment: Visa, Mastercard & Cash
Price: Dinner for two with bottle of wine, tax and tip: 1000 pesos