This post is also available in: Español
Puerto Vallarta is one of the most exciting places to be to ring in the New Year – and it offers a little something for everyone.
From street parties, to white parties, you'll find lots of great fun, along with some fantastic fireworks that you'll see from multiple spots on the Malecon.
One of the biggest parties is a street party – typically extending from the beginning of Olas Altas at Lazaro Cardenas Park, all the way up past Hotel Los Arcos and up a few more blocks. The entire road is closed. The fun begins between 9 and 10 p.m. and will run till 2 or 3 a.m. If you want to ring in 2019 at Midnight with lots of strangers, this will be the place to be.
Looking for a quite romantic dinner? Many restaurants will offer special menus for dinner including a midnight celebration.  Here are just a few – do your own research and find a place that suitable for your taste and budget.
Casa Cupula
Celebrate New Year's Eve in style at Casa Cupula; great food, live music, and fireworks!
Only $1999 pesos per person includes a welcome drink, all you can eat buffet, live musical entertainment and free entrance to our Fireworks viewing party at 11 p.m. next door. Option for unlimited premium bar for $2499. 15% tip wlll be added. Featuring live music by Piel Canela, one of Puerto Vallarta's hottest Latin music bands. We'll have all our guests dancing before the night is over. Make your reservation for New Year's Eve at Casa Cupula today via email at concierge@casacupula.com or by phone at 223-2484 x151. A 50% non-refundable deposit is required
Top Sky Bar: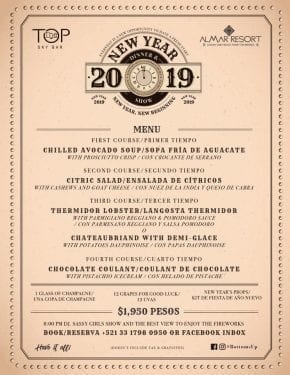 The best spot to see New Years fireworks!
Sassy Girls Drag Show
DJ all night
$1,950 Dinner, 1 glass of Champagne, grapes and party kit!
Book at rpmanager@almarresort.com
Or WhatsApp: +51 1 3317980950
Parties
Puerto Vallarta is known for its big parties. Here are a few that you might find fun!
NYE PVR – A Night at Studio 54 at Oscars, presented by Will Gorges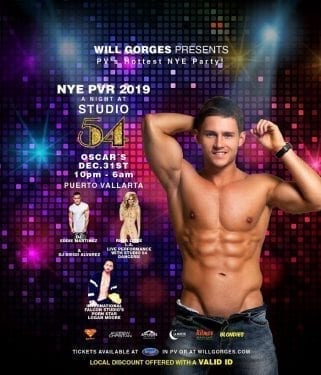 A night at Studio 54 will be held at Oscar's Puerto Vallarta, with DJ Diego Álvarez as the newest addition to NYE PVR 2019's lineup.  Grab your tickets at www.willgorges.com. Ticket prices start at $60 USD per person.  The ultimate NYE celebration returns to Puerto Vallarta, co-hosted by Rhea Litre' with DJ Eddie Martinez, the hottest Go Go Boys, massive light and sound effects, fireworks, live performances and more!
International Falcon Studio's Porn Star
LOGAN MOORE is joining us for NYE PVR 2019 in his first ever Mexico appearance!
White Party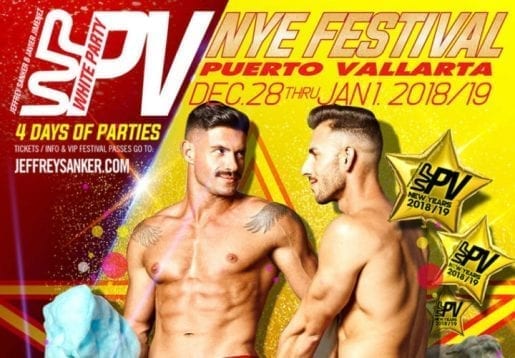 White Party brings a FOUR NIGHT weekend festival of music, magic, and men for WHITE PARTY PUERTO VALLARTA New Year's Eve FESTIVAL.
White Party Circus: a NEW weekend festival with four parties of breath-taking acts, feats of strength and wonder, and wild animal gogos.
The New Years Eve Festival kicks off FRIDAY night at THE TOP SKYBAR at Almar Resort from 9pm-1am with beats by DJ Diego Alvarez.
SATURDAY night, Jubileo LuXXXury Edition returns at Mantamar Beach Club from 8pm-1am with DJ's Luis Vazquez and Angel Rios.
SUNDAY night join us for our WHITE PARTY Main Event – CIRCUS at Manatmar Beach Club from 6pm-1am as our our "Ring Leader" DJ JOE GAUTHREAUX direct from New York City, spins the beats all night long with opening set by DJ Isis Muretech along with special performances including the HOTTEST gogo gods in PV!
TUESDAY we bring you a very special Pool Party with DJ ISIS MURETECH and DIEGO ALVAREZ to ring in the new year with the first party of the year at Mantamar Beach Club from 2pm-9pm hosted by SCRUFF
TICKETS AVAILABLE ONLINE, and at MR. FLAMINGO!!
https://www.eventbrite.com/e/white-party-festival-puerto-vallarta-new-years-eve-20182019-tickets-48816166468
Club de Leones Afterhours Party
Club de Leones will be transformed to a magical venue where you can dance to the beats all morning long.  A TRUE AFTERHOURS EXPERIENCE.   Sunday morning, 2 am will feature Mexico's own Diego Alvarez and INTERNATIONAL SUPERSTAR DJ DANNY VERDE (MIAMI)
Tuesday morning 3am, right after ringing in the new year, dance to the beats of Mexico's Alan Capetillo and Xander Alvarado.
Weekend Pass is available for both Afterhours events which is highly recommended for guaranteed admission and express entry.
https://www.evensi.com/climaxxx-official-afterhours-puerto-vallarta-nye-weekend-club-leones/281938584?fbclid=IwAR3gmgYAICEpSr0cwyyMUgdo7S5CPeNmYceRX0ku3AIKiFkDIqKpEks60S4
New Year's Eve 2019 Bar Hop
Join our special VIP New Year's Eve Gay Bar Hop. Skip the long lines at the clubs and Ring in the New Year VIP Style.  Dinner tour starts at 7:30 until pm. The Bar Tour only starts at 9pm to visit 3 bars from 8:30 until 11:30 pm, then view the world-famous fireworks from Casa Cupula at midnight with champagne and party favors, and ends with No Line VIP access and cover to CC Slaughter's Dance Club. This tour includes cover and VIP access to CC Slaughters New Year's Eve Party. https://hop.gaypv.com/
New Year's Eve Traditions in Mexico
Mexico is rich in tradition and a celebration like New Year's can't be left out.
One such tradition is wearing a new pair of red or yellow underwear – they must be worn for the first time on NYE – Red if you are have luck in love for the upcoming year, and yellow if you want to have luck with money.
Some other traditions:
Eat 12 grapes – each one for good luck during the next 12-months.
Throw a glass of water towards the street to expel fears and worries for the next year
Grab a broom and sweet your worries out the front door.