This post is also available in:

Español (Spanish)
If you're looking for fun in the sun, the best place to head is either Puerto Vallarta, Jalisco, Mexico or Provincetown, Mass, at least...
O&APV (Out & About Puerto Vallarta),  S.DE R.L. C.E. DE,,   is seeking a contract sales, marketing and events person, working under the direction of the publisher...
It was a beautiful, not too sunny or cloudy or humid or rainy day in mid-October at the Pinnacle Resorts' Sky Bar when we...
A popular boutique hotel among LGBT travelers to Vallarta has received outstanding acknowledgment from TripAdvisor. The Travelers' Choice Awards, according to the TripAdvisor website, "are...
Art VallARTa has announced a new art exhibition, Men and Women Painting Men, that will run from Dec. 15 to Jan 2, 2019. ART VallARTa,...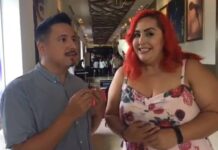 Chef Claudia Sandoval was in Puerto Vallarta this week. The season 6 winner of MasterChef USA and now a judge on the new MasterChef...
Fabian Reyes opened Warique (pronounced Wah-Ree Kay) last September and it quickly became a popular destination through positive word of mouth. After years of...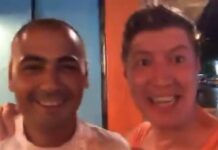 Derek Carkner spoke with Chanan Kamen at the opening of his new establishment, Don Chava Taqueria Cantina. It is located at Lazaro Cardenas 288,...
Welcome to Puerto Vallarta! A quick overview of the beauty of Puerto Vallarta, provided by the Puerto Vallarta Tourism Board.

Vicki Steuteville and Jaime Baldridge are coordinators of the annual fundraiser event, Cheryl's Shoe Box Summer Bash, the third of which is scheduled for...
Casa Cupula to begin 15th anniversary with "Desperate Princesses" Watch the videos! Mexico's premiere LGBT boutique hotel is about to embark on its 15 season, and...
O&APV talks with Naked Boys Singing cast member Mitchell Guzman and the rest of the cast. The show is currently playing on select nights...
We take you on a tour of the newly expanded Anónimo Bar with Duviel, one of the bartenders.

The Puerto Vallarta Gay Men's Chorus hosted its annual fundraiser on the evening of Friday, March 23 at Casa Karma in Conchas Chinas. The nighttime...
Meet Your Real Estate Agent